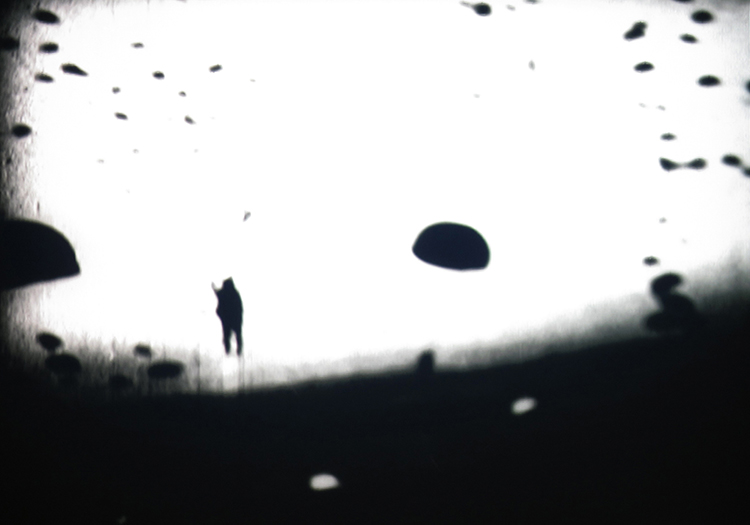 © Gwynne Fulton, deep-six (2011)
Session 3 | Gwynne Fulton
For SESSIONS, its new program of activities, Dazibao invites an artist to share his or her vision of contemporary image practices. Free and open spaces, these SESSIONS take a variety of forms; one-time events presented just one evening, they will be a kind of performance.
SESSION 3
February 8, at 7 pm | Fernand-Seguin Theater
Videos
In this third and last SESSION of 2011-2012, Gwynne Fulton brings her recent work deep-six (2011) into dialogue with a selection of short films that trace the transit between memory, the image and the archive. These films play with montage and cutting, inertia and speed, assemblage and parody to construct and deconstruct narrative, identity, history. Juxtaposing post-apocalyptic tales of time travel with sci-fi and melodrama, autobiography with fiction, found-footage with photo-montage, this program evokes the destructive and redemptive powers of memory. Raising questions about loss and survival, these works compose and decompose images, sounds and stories in ways that reconfigure the relationship between the past, the present and the future. They ask us to reconsider how technologies of inscription organize and archive subjective and collective memory. Some aim to retrieve and reconstruct lost memories—to articulate counter-histories and possible futures. Others gesture towards fractures, discontinuities and erasures that destabilize the archive—inciting amnesia, while conjuring an image of technology haunted by obsolescence, futility and failure.
---
Gwynne Fulton is a multi-disciplinary artist and theorist based in Montreal. She is currently a PhD candidate in Interdisciplinary Studies in Philosophy and Cinema at Concordia University, where she is researching the relations between deconstruction, the politics of memory, the still and the moving image.
FILMS
La jetée (1962), 28 min, Chris Marker
Manual (2002), 7 min, Matthias Müller & Christoph Girardet
Deep-six (2011), 18 min, Gwynne Fulton
Jack (2003), 15 min, Mike Hoolboom
Last thoughts (2003), 7 min, Mike Hoolboom
SESSION 1
October 26, at 7 pm : Sylvie Laliberté, Fernand-Seguin Theatre
SESSION 2
November 23, at 7 pm: Francine Delorme, Fernand-Seguin Theatre
SESSION 3
February 8, at 7 pm: Gwynne Fulton, Fernand-Seguin Theatre
Dazibao thanks the artist for her generous collaboration as well as its members for their support.
Tweet
---
« Session 2 | Francine Delorme | HOME SWEET HOME: À propos de l'inquiétude »